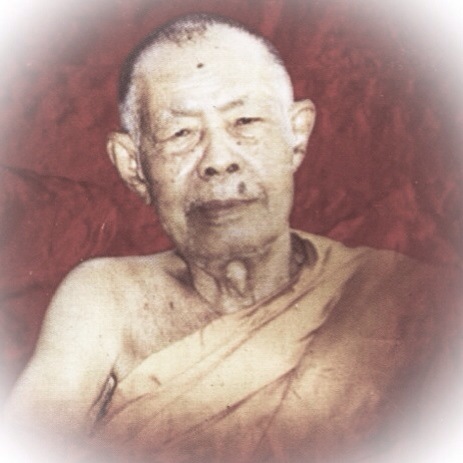 Pra Ajarn Nong Tamma Phudto – Wat Sai Khaw 2462 -2542 BE
Ajarn Nong was Ordained as a Bhikkhu at the age of 21 in 2482 BE. He led a life of practice worthy of reverence and is one of the most important makers of Luang Por Tuad amulet in the history of Thai Amulet making. He became the Abbot of Wat Sai Khaw in his Birth Place of Pattani, in Ampher Koke Po.
During his 60 years as a Bhikkhu, he made well over 40 editions of Masterpiece amulets. After Ajarn Nong, ex Abbot of Wat Sai Khaw, in Ampher Koke Po (Pattani) passed away on the 11th September 2542 BE, the 'Wongarn Pra Krueang' (Amulet Collector Society), began to gather and keep the amulets of LP Nong even more than before, for they knew that the amulets of Ajarn Nong were already incredibly famous as he was still living, and that these amulets were destined to become extremely rare in the future and jealously guarded by their owners.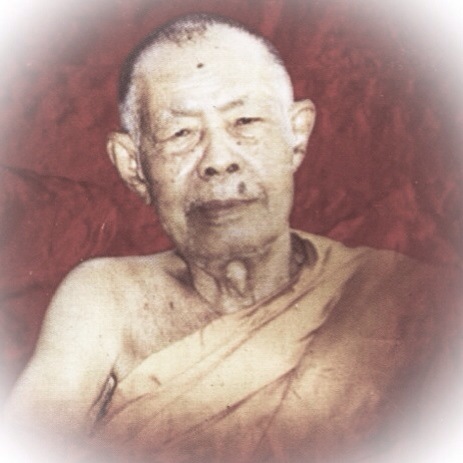 ---
This is already becoming the case, and his amulets are becoming ever rarer to find on amulet markets (except for fakes of course). You must definitely find a reputable expert or trader who will make sure that the amulet is authentic, for the popularity of his amulets are sufficient for many editions to have been faked by multiple forgery operations simultaneously, resulting in various editions of fakes in various shapes and forms to have infiltrated the market.
Ajarn Nong is most Famous for making Pra Luang Por Thuat amulets, of which he has Created over 40 different Editions of amulet in the image of LP Thuat. LP Nong made so many different types of amulet, ranging from Takrut, Metta charms, up to Pra Kring, Powder amulets and Yantra Cloths.
He is a Master Gaeji Ajarn of the Southern Khao or magical Lineage. Most of his amulets were empowered with the Lineage Masters of the Khao Or Cave. He is entering History along with the Great Luang Por Tim (Wat Chang Hai) for his contribution to continuing the Dtamra of making Pra Luang Por Thuad amulets.
---
Takrut Pra Narai Plaeng Roop
If we talk of Ajarn Nongs amulets, then the Takrut Tone amulet is one type which cannot be overlooked, for his Takrut charms are amongst the most preferred amulets of LP Nong along with LP Tuad amulets. It is therefore the Takrut and the LP Thuad amulet for which Ajarn Nong is commonly known for.
---
The most famous of all Takruts by Ajarn Nong is the Takrut Tone Narai Plaeng Roop, which was so successful with Devotees, that it has become his trademark.
Especially in the Vietnam War, the Soldiers who had received Takrut from Ajarn Nong all came home safely without one single exception, and many returned with tales of miraculous escapes from death, attributed to the magic of Ajarn Nongs Takrut amulets.
There are so many tales of Devotees encountering Miracles and life saving magic, that the legend of his Takrut follow him like his own shadow.
---
It is said that Ajarn Nong began to make and hand out Takrut Tone amulets around 2496 BE, which he would hand out to his close disciples. The very first Takrut were made from small sheet of Iron, and were small in size.
Some time later, some Looksit brought some gun shells to use for Takrut making. These Takruts were varied sizes depending on what kind of bullet shells were available. This edition gained much fame and legendary status for the many life saving tales from those who possessed one.
Ajarn Nongs Takrut are famous also for their Puttakun power to change bad luck back into good luck, and to transform fate. After he began to make bullet shell Takruts, his magic also became known for powerful 'Maha Ud' (Gun Stopper) and 'Klaew Klaad' (Evasion of Danger). Whenever LP Nong would hand out one of these Takrut, he would say " this is for protection, if someone thinks to harm you, you, they will not be able to find you, and those who try to harm you, will encounter their own demise.
---
The Wicha Narai Plaeng Roop used for Ajarn Nongs Takruts is an Ancient Wicha, which is mentioned in the Dtamra Saiyasart as being a Wicha which has immense power, like that of Pra Narai transforming. It contains a multitude of different blessings. The Wicha of making a Takrut with the image of Pra Narai is a Wicha which not many people know how to perform, which makes this type of Takrut extremely rare to find. To perform the spell properly, it is necessary to Master the 'Wicha Dtang Agarn 32' and the 'Wicha Riak Roop Riak Nam', as is usual with all spells that use the image of a being, Himapant animal or Deity. But it is much more difficult to force and contain a magical image of Pra Narai using incantation, than it is to contain and subdue a lower Deity or Himapant animal. This is therefore the reason why there are hardly any Masters at all who can enforce this type of magic spell.
The usual and more common method for applying this Wicha, is to use a Yant design which represents the basic principles of Pra Narai transforming, or to use a Kata instead. The image of Pra Narai is simply too powerful for most people to be able to control and force into the Takrut.
---
There is a story recorded in the Biography of Somdej Pra Puttajarn (Dto) Prohmrangsri (Wat Rakang Kositaram) written by Maha Amamat Praya Tip Gosaa (Ajarn Sorn Lohanant) and Pra Kroo Plad Maha Thaeranuwatra (Maha Pae). The Biography was published to celebrate 200 years of the Ratanakosin Era. In the story it tells that, as King Rama 4 called upon Somdej Dto to accept a dignified status, Somdej Dto fled to the forest, and hid from the responsibility. He did not wish to have status, rather wished to be a simple monk.
His Majesty sent envoys out around the country to find Somdej Dto, but however hard they searched, he could not be found. Somdej Dto used a Wicha to change his face so that those who knew him would not recognize him if the saw him, and he was only able to be found, because he presented himself to the Gamnan (Marshal) of Ban Phai, who took him then to Wat Po Chetupon. The wicha Somdej Dto used to change his appearance,is the Wicha Pra Narai Plaeng Roop.
Ajarn Nong would always tell his Looksit who received the Takrut Pra Narai Plaeng Roop, that they would be able to avoid dangers. The story of Somdej Dtos disappearance demonstrates the power of this Wicha, for it is much harder for a Nationally famous Monk whose portrait everyone knows to hide than a normal person, proving how the Wicha Narai Plaeng Roop can make even a well known face able to avoid being noticed.
Legend tells that LP Nong received his special form of the Wicha Pra Narai Plaeng Roop one evening, as a tree spirit, who appeared to him, dressed as in ancient times in a red 'Pha Sabai' robe. She appeared in front of the pillars of the Kuti hut of Ajarn Nong, and showed him the Wicha for making Takrut Tone, how to make the Agkhara inscriptions and Kata incantations for empowering the Takrut with the Pra Narai Plaeng Roop spell. She then told him her name, which was 'Mae Nang Jantr'.
He was told by the Mae Nang Jantr that she is a Deva who lives on the peak of Mount Kalakiree, and is related to Luang Por Sitti Chai, the ex Abbot of Wat Sai Khaw. He said that the Mae Nang Jantr Deva wanted to collaborate and join in to make Merit, by helping Ajarn Nong complete the building of his Kuti, and also to enable Ajarn Nong to become Abbot of Wat Sai Khaw. So she showed him how to master the Wicha Takrut When Ajarn Nong awoke from the Nimitta, he felt as if he had been speaking with a real person, and could remember every detail of the dream perfectly.
Ajarn Nong Thus believed everything that had occurred during his Nimitta Vision, including the fact that this Wicha for Takrut is authentic.The versions of Takrut Narai Plaeng Roop which were made with bullet shells, were ususally also filled with sacred items.
The main sacred item Ajarn Nong would insert into the Takrut, is a kind of wood called 'Mai Luang Por Thuad', which the Deva Mae Nang Jantr told Ajarn Nong how to find, and take from Mount Kalakiree. No one really knows what kind of wood it is, nor what it looks like, because Ajarn Nong would lay out a rule that it is forbidden to break the seal of a bullet Takrut and open it. If such a thing were to happen, the Takrut would be immediately ineffective and never again usable.
For Luang Por Thuad amulets, his metal amulets in Loi Ongk and coin form are very worth collecting and revering, especially if you are a believer in the Wicha Pra Narai Plaeng Roop, and there is one edition of Pra Kring in the form of Luang Por Thuad, which he made that is very interesting. It is unusual because the sacred metals ('Chanuan Muan Sarn') used for the 'Kring' (a tiny ball inserted inside the amulet which rattles) of the statuettes, was made exclusively with a great number of Yantra Foils with Yant Pra Narai Plaeng Roop.
Ajarn Nong passed away in 2542 at the age of 80, after 60 years as a Bhikkhu. His legend now continues with the Amulets of Ajarn Peng (current Abbot of Wat Sai Khaw), to Whom he taught, and passed on the Wicha of Takrut Narai Plaeng Roop.
---
Thailand Amulets – Sacred Thai Amulets for Wealth, Health, Protection, Love and Happiness