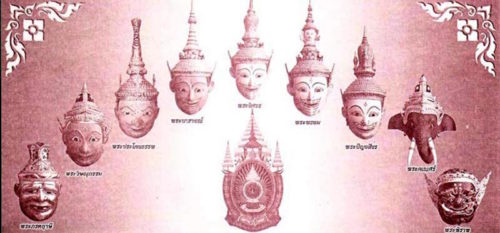 Kata Bucha Pra Ruesi 108
You can use the Katas at the foot of this page for praying to the Ruesi (also spelled as Lersi) by their special Names, but it is first important to make the Traditional reverence to the Kroo through some necessary preliminaries of Chanting the Main Kata for all of the Ruesi Deities;
Always chant the Praise to Buddha first three times;
Na Mo Dhassa Pakawadto Arahadto Sammaa Samputtassa ( X3 on your knees and bowing each time)
Then chant the refuge in the triple gem until entering Nirvana – chant with with hands raised in prayer, and bow after each line is finished;
Refuge;
Puttang Cheewidtang Yaawanippaanang Saranang Kyajchaami (bow once)
Tammang Cheewidtang Yaawanippaanang Saranang Kyajchaami (bow once)
Sankang Cheewidtang Yaawanippaanang Saranang Kyajchaami (bow once)
Tudtiyambpi;
Puttang Cheewidtang Yaawanippaanang Saranang Kyajchaami (bow once)
Tammang Cheewidtang Yaawanippaanang Saranang Kyajchaami (bow once)
Sankang Cheewidtang Yaawanippaanang Saranang Kyajchaami (bow once)
Dtadtiyambpi;
Puttang Cheewidtang Yaawanippaanang Saranang Kyajchaami (bow once)
Tammang Cheewidtang Yaawanippaanang Saranang Kyajchaami (bow once)
Sankang Cheewidtang Yaawanippaanang Saranang Kyajchaami (bow once)
Then you can chant all or any of the following Katas
Kata to the 108 Ruesi;
Om Surawepoya Ruesi Poya  Na Ma Ha
Kata Bucha Ruesi;
Om Imasaming Pra Bprakone Tap Pra Muneetewaa Hidtaa Dtumhe Bparipunchandtu
Tudtiyambpi – Imasaming Pra Bprakone Tap Pra Muneetewaa Hidtaa Dtumhe Bparipunchandtu
Dtadtiyambpi – Imasaming Pra Bprakone Tap Pra Muneetewaa Hidtaa Dtumhe Bparipunchandtu
Kata to ask for the blessings of the Ruesi;
Om dtwa mewamaadtaa ja bpidtaa dtwa mewa dtwa mewa pantusaja sakhaa dtwa mewa dtwa mewa witayaa tarawinam dtwa mewa dtwa mewa sarawam ma ma tewa tewa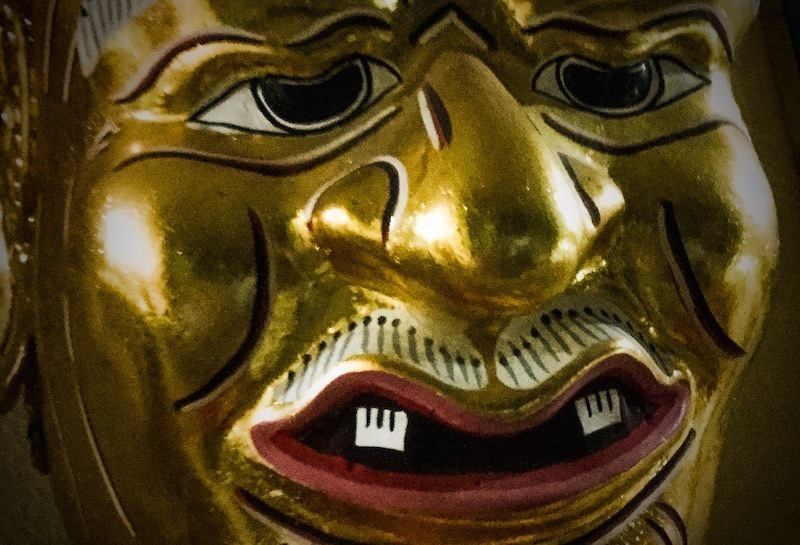 Kata Bucha Por Gae Ruesi Dta Fai
Ugaasa imang akkee paahoo buppang Ahang wantaa aajaariyang sappasayang winaassandti
sittigaariya abparabpachaa imasaming pawandtume
tudtiyambi – imang akkee paahoo buppang Ahang wantaa aajaariyang sappasayang winaassandti
sittigaariya abparabpachaa imasaming pawandtume
Dtadtiyambpi – imang akkee paahoo buppang Ahang wantaa aajaariyang sappasayang winaassandti
sittigaariya abparabpachaa imasaming pawandtume
Katas for Revering the Ruesi
Various Kata (general and specialized) for praying to the Ruesi, and empowering your Ruesi amulets, Por Gae Masks and Statues
General Kata (Good for all Ruesi)
Namasa Dtisadtawaa Isisitti Lokanaatathang
Anudt Dtarang Isee Ja Pantanang
Saadtraa Ahang Wantaami Dtang Isisittiwesa
How to Pray to the Ruesi Narot
Offer Hmak Plu (Betel nut and Areca leaf), tobacco and grapefruit. Also offer flower garlands which have jasmine flowers in them.
Kata Ruesi Kobutra
Kata for Bucha Ruesi Narot
Ugaasa Wantami Bhante Sappatang Abparaatang Kha Ma Dta Mae Bhante Mayaa Gadtang Bpunyang Saaminaa Anumotittappang Saaminaa Gadtang Mayhang Naadtappang Saatu Saatu Anumotaami
Wantaami Narata Burapaajaariyang Sappa Maetosang Khamadta Mae Bhante
It should be noted that to correctly Bucha Ruesi Deities, one should also have Korb Kroo ceremony performed on you in order to receive protection and lineage of the Ruesi Masters.
Kata Bucha Phu Ruesi Nakarach
Om Mahaa Swaahome Na Leu ler Asisidti Tanuu Jaewa Sappae Aawutaanija Pakka Pakadtaa Wijuninaani Lomang Maamae Na Pussandti
โอมมะหา สวาโหม นะ ฦา ฤา อสิสิติ ธะนูเจวะ สัพเพ อาวุธทานิจะ ภัคคะภัคตา วิจุนินานิ โลมังมาเม นะผุสสันติ
Kata Por Phu Ruesi Narai
Om Namo Por Phu Ruesi Narai Na Ma

(chant three times)
then chant;
Sahassa Naedt-Dto, Por Phu Ruesi Narai, Tippa Jagkhung Wisotaaya
Om Imasming Saggaara Wantanang Por Phu Ruesi Narai
Buchidt Dtawaa Mahaa Laapo Sukhang Palang Pawandtume
Ruesi Hnaa Suea
This Ruesi Hermit Sage, is also known as Boromakruu Jao Samingpray. In Thai, his real name and title is 'Tan Taw Himawat' (ท่านท้าวหิมวัต) The famous master monk Hlwong Phu Ga Hlong (currently famous for his amulets), uses this ruesi as his mentor.
The Kata (mantra) for Ruesi Hnaa Suea (tiger head ruesi) is as follows;
Oem Rue Reur (Leu Leur if you like), Mahaa Rue Raa Payakkae Payakkoe
Ittirittae Ittirittoe Sirae Sirae Kuroe Kuroe Yaadoe Bpen Man Naa Ham
Guu Diar Bang Giar Doer Doer
Alternatively, or in Addition to the previous Kata;
Ugaasa Imang Akkee Paahu Bpub-Phang Ahang Wantaa Aajariyang Sappa Sayyang Winaasandti Sitti Giriya Abpa Rabpa Chaa Imasming Pawandtume
Tudtiyambpi – Ugaasa Imang Akkee Paahu Bpub-Phang Ahang Wantaa Aajariyang Sappa Sayyang Winaasandti Sitti Giriya Abpa Rabpa Chaa Imasming Pawandtume
Dtadtiyambpi – Ugaasa Imang Akkee Paahu Bpub-Phang Ahang Wantaa Aajariyang Sappa Sayyang Winaasandti Sitti Giriya Abpa Rabpa Chaa Imasming Pawandtume
Kata Bucha Ruesi Galai Gote (Deer Head Ruesi)
Namo Galai Godti Mahaa Munii No Suradtaba Chaanatarassa
Sujaridta Chanaanang Sappa Sitti Taaya Gassa Manussaa Taewaanang
Warakunatara Mahaa Muninodti Bpaadtagassa
Ahang Dtang Wantaami Dtumhae No Gaaya Palanja Jidt-Dta Palanja Sappa Sittinja Taetha
---