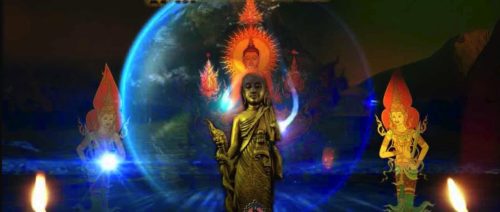 Pra Sivali – Arahant with Miraculous power to quickly attract favor and riches
Kata Pra Sivali
Ahang Wantaami Siiwaliitaadtuyo Ahang Wantaami Sappaso
Kata to Bucha Pra Sivali
Iminaa Saggaaraena Siiwalii Thaerang Apibpuchayaami
(When you chant this whilst making Bucha to Pra Sivali, then say in your inner heart
silently the following words;
Bpuchidtang Sappalaapang Bprasitti Mae Thaerassa Aanupaawaena Sappa So Thee Pawandtu Mae
Kata Pra Sivali (Luang Por Guay – Wat Kositaram, Chaynat)
Siiwalii Ja Mahaa Thaero Bpajjaya Laapa Buchidto Manusso Taewadtaa Into
Pramaayamo Yagkha Waa Bpidtassa Nirandtarang Bpana Laapa Saggaarae
Aanaendti Nijjang Siiwalii Thaerassa Laapo Saggaaro Hodti Siiwalii Mahaa Thaeran
Ja Buchagassa
Sataawaabi Kaatanja Sangwadt Dtanassa Laapo Ja Saggaaro Hodti Thaerassa
Aanupaawaena Laapo Mae Hodtu Sappataa Aedtaena Sajja Wachaena Laapo Mae
Hoedtu Sappataa
Kata for chanting when going on Business trips
Na Chaa Liidti Bpasitti Laapaa
Kata Hua Jai Pra Chimplii (heart Mantra of Pra Chimplii)
Saatu Siwalii Ja Mahaa Thaero Na Chaa Li Dti Bpasitti Laapaa Bpasanna Jidt Dtaa
Sataa Hondti Bpiyang Ma Ma Sappae Chanaa Pahu Chanaa Sappae Tisaa Samaa
Kadtaa Gaala Pochanaa Wigaala Pochanaa Aakaj Chaaya Aakaj Chaahi Bpiyang Ma
Ma
Short Kata Pra Sivali
Siiwalii Ja Mahaa Thaero Chay Ya Sitto Mahit Tigo Thaerassa Nupaawaena
Katas for Pra Sivali for each day of the week
Sundays (Chant 6 times) – Chimpalii Ja mahaa Naamang Sappa Laapang Pawissadti
Thaeras Saanupaawaena Sataa Hondtu Bpiyang Ma Ma
On Mondays (Chant 15 times) – Yang Yang Bpuriso Waa Idthii Waa Turaehi Waa
Sami Bpaehi Waa Thaeras Saanpaawaena Sataa Hondti Bpiyang Ma Ma
On Tuesdays (Chant 8 times) – Chimpalii Ja Mahaa Thaero Soho Bpajjayaa Timhi
Chaeya Laapo Mahaa Laapo Sappa Laapaa Pawandtu Sappataa
On Wednesdays (chant 17 times) Tidt Dtidt Tha pa Wae Rachaa Biyaa Ja kara Dtu
Mae Yae Saaradt Dti Niran Dtarang Sappa Sukhaa Wahaa
On Thursdays (Chant 19 times) – Chimpalii Ja Mahaa Thaero Yagkhaa Taewaa Pi
Bpuchidto Soraho Bpajjayaa Timhi Ahang Wantaami Sappataa
On Fridays (Chant 21 times) – Chimpalii Ja Mahaa Thaero Taewadtaa nara
Bpuchidto Soraho Bpajjayaa Nimhi Mahaa Laapang Garondtu Mae Laapaena Udt
Dtamo Hodti Sappa Laapang Pawandtu Sappataa
On Saturdays (Chant 10 times) Chimpalii Ja Mahaa Naamang Intaa Prahmaa Ja
Bpuchidtang Sappa Laapang Prasitti Mae Thaeras Sanupawaena Sataa Sukhii
Bpiyang Ma Ma
Ancient Kata for Pra Sivali
"Saatu Siwalii Ja Mahaa Thaero Ugaasa"
(Say in your heart) "May the magical powers of luck and fortune of Pra Sivali Thaera be installed within my perception, mind and body. As Pra Sivali was often a safe refuge for the Buddha, the Arahants and the 4 thousand Dhamma Khandas, thus so shall Pra Sivali Thaera be my refuge. May his immense power of Metta Mahaniyom and Choke Laap Saggaara generate riches and good fortunes in life, For absence of material things leads to physical suffering and plight".
Pra Sivali is commonly pictured with the 'Glod' (umbrella), representing a traveling forest monk (Tudong), who lives in simplicity and travels light, with the minimum of belongings to carry. Apart from as a statue on the altar for making reverence, small miniature statuettes of Pra Sivali are very popular as luck bringers to carry around at work during the day, and increase ones
fortune. He is also often depicted seated eating from his almsbowl, or standing with the almsbowl in both hands on almsround.
---