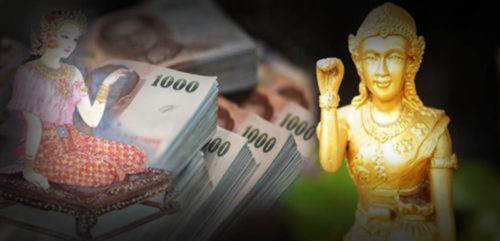 Nang Kwak – Chanting and Bucha method for Nang Kwak Deity
Nang Kwak Thai Deity of Wealth for Shopkeepers, Merchants, and Traveling Sales Persons, Nang Kwak is the Nang Supawadee Brahman Merchant Deity, who beckons customers and admirers, and induces Mercy Charm and Maha Lap.
What to chant to Nang Kwak?  What to Offer to Nang Kwak? How to place the Nang Kwak statue?… Nang Kwak is one of Thailands most commonly seen Deities. The image of Nang Kwak is given offerings and prayed to, in order to increase wealth and business prosperity. She is a Deity revered by Merchants in both India and Thailand, by both Brahman, and Buddhists alike.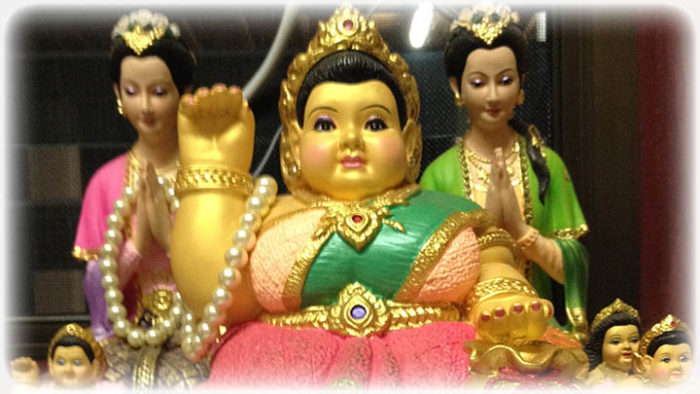 Nang Kwak is the helper of all shop-owners and merchants. She is normally seen placed on a high shelf (normally a wooden or red and gold lintel, called 'Hing' in Thai) and offered "Nam Daeng" (a red syrupy drink, often used in Bucha offerings to Deities in Thai Buddhist practice). Also, Incense, and flower garlands are offered to please Nang Kwak, and bring customers and make sales. Kata Nang Kwak is used when paying devotional merits to Nang Kwak, who is used in the place of business to increase the amount of customers and sales you may ingress. Nang Kwak is a very popular magic cloth Yantra used in most business establishments in Thailand. You can also see Nang Kwak worshiped as a statue .
How to Rever Nang Kwak
To Bucha Nang Kwak, One should use 5 incense sticks and offer flowers (preferably jasmine), red syrup drink ('Nam Daeng'). Some water, and also some sweets and rice as offerings to Nang Kwak. Light the incense, candles, and offer the flowers and drinks. Then Say "Namo Dtassa Pakawadto Arahadto Sammaa Samputtassa" 3 times, and bow three times to Buddha before you begin chanting Kata Nang Kwak.
Kata Nang Kwak
Use this Kata when you are going to sell things, or in your place of business in the morning. The above youtube clip is a slow and clear pronunciation of the below text, exactly as it is written;
Om Sriwichay Gangwian

Phu Jao Khao Khiaw Mii Luuk Kon Diaw Cheu Naang Kwak

Chaay Hen Chaay Rak Hying Hen Hying Tak

Tak Tuan Naa Puak Paanichaa Paa Guu Bpai Kaa Terng Mueang Maen

Guu Ja Bpai Kaa Hua Whaen Gor Dai Wan La Saen Tanaan

Guu Ja Kaa Saarapadgarn Gor Dai Doey Klong

Guu Ja Kaa Tong Mua Rai, Gor Dai Dtem Haab Piang Wan Nii Bpen Rooy

Saam Haab Ma Ruean Saam Duean Bpen Saedtii Saam Bpii Bpen Por Kaa Sampao

Pra Rasii Puu Bpen Jao Bprasit Hai Gae Luuk Kon Diaw Swaaha.
---