Kata for Amulets using Love Charm Wicha 'Ba Cha Dta'
The Deity of the Wicha Ba Cha Dta is Originally a form of Khun Phaen Maha Saneh type amulet, mixed with the In Koo lover pair Deity. and in fact many editions of Khun Phaen amulet have been called 'Ba Cha Dta'. It is therefore also a Variation of the Paetch Payatorn Deity too (Taewada Hlong Hong). Its prime purpose is as a Love Charm, but is also used as a Powerful and Effective Business aid to increase customer and sales.
Amongst the many famous amulets which use the Ba Cha Dta Occult Principle for its magic, are;
Khun Phaen Ba Cha Dta by Phu Mor Nak, an old Lay master who is perhaps the Country's Top Master Khun Phaen amulet maker.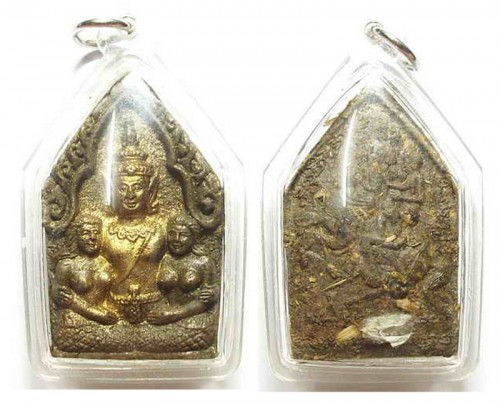 Ba Cha Dta Locket and Powder Deity amulets from Ajarn Perm Prai Dam
Ba Cha Dta Yoni amulets from Ajarn Tong Taeng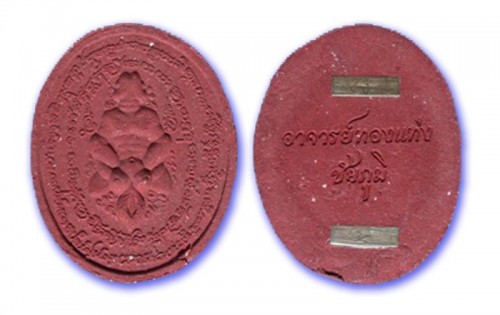 Kata Ba Cha Dta (Male)
Om Ra Ri Mahaa Ra Ri Sam Sip Sorng Hee Ma Waed Kuay Pood Gor Ngaay Hee Hlong Ngong Nguay Tork Kuay Glab Baan Maani Maamaa Aakajchaaya Aakajchaahi Dtiwadtappo Aakajchaahi Na Ma Pa Ta Dood Daa Di Dee Hor Haa Hi Hee Doo Dee Hee Her Her Idti Leungka Na Ba Cha Dta Ma U Hee Ma Ma A U Hee Maa Ma U Hee Hoey Ma A U Hee Maa Ma A U Hee Maa Haa Dood Goo Na Na Dood Lor Hee Meung Na Na Ha Ba Cha Dta Ma A U Na Ha Ba Cha Mi Ullumbpadtumang Pandtae Jidtang Ubp-Bpa Sambpa Ubpaemi
(Chant 3,5,7,9 or 108 Times)
Short version (Male)
Idthileungka Na Ba Cha Dta Ma A U U A Ma
Kata Ba Cha Dta (Female)
Om Raruay Mahaa Raruay 32 Kuay Ma Waed Haa Hee Lor Dood Dee Haeg Hee Glab Baan Maani Maamaa Aakajchaaya Aakajchaahi Dtiwadtappo Aakajchaahi Na Ma Pa Ta Idtileungka Na Ba Cha Dta Ma U Dood Ma Ma A U Dood Ai Hee Maa Ma U Dood Ai Hee Hoey Ma A U Dood Ai Hee Haa Ma A U Dood Ai Hee Maa Haa Hee Goo Na Na Hee Lor Dood Meung Na Na Ha Ba Cha Dta Ma A U Na Ha Ba Cha Mi Ullumbpadtumang Pandtae Jidtang Ub-Bpa Sambpa Ubp-Bpaemi
(Chant 3,5,7,9 or 108 Times)