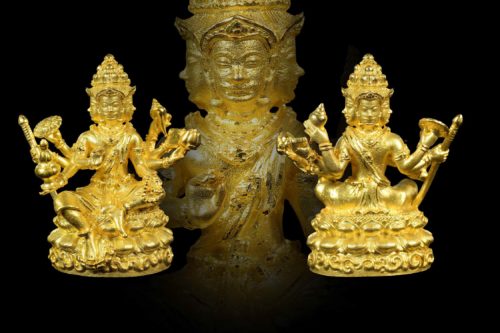 Kata for Chanting – Mantras for Praying to Deities and Empowering Amulets
Pra Prohm – Brahma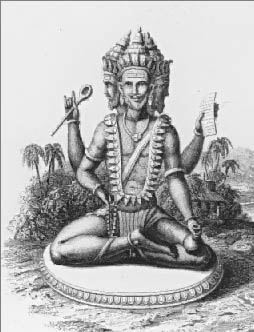 Within the Hindu trinity of Brahma, Vishnu and Shiva, Brahma is the creator, Vishnu the preserver and Shiva the destroyer. Nevertheless, Brahma grew in a lotus out of the navel of the sleeping Vishnu. The daily alternation of light and dark is attributed to the activity of Brahma.
Brahma's mind born sons are the seers Marici, Atri, Angiras, Pulastya, Pulaha, Kratuj, Pracetas, Vashishta, Bhrgu and Narada. From Brahma's body came his nine sons Daksa, Dharma, Kama, Anger, Greed, Delusion (Maya), Lust, Joy, Death and Bharata and one daughter called Angaja.
In order to create the world and produce the human race, Brahma made a goddess out of himself. One half was woman and the other half was man. Brahma called the woman Gayatri, but she also became known by many other names such as Saraswati.
Brahma has four heads, but used to have five. The four extra heads appeared when Gayatri was very ashamed with Brahma's love for her and tried to escape from his gaze. The tremendous tapas that Brahma had practiced for the purpose of creation was entirely annihilated through his desire to unite with his daughter. One head was lost later when Brahma lied to Vishnu and thus caused Shiva to become very angry.
The four Veda's are said to have sprung from his heads. In the Life of Ganga, Brahma advised Bhagiratha to ask the help of Shiva in containing the power of Ganga (goddess of the Ganges river)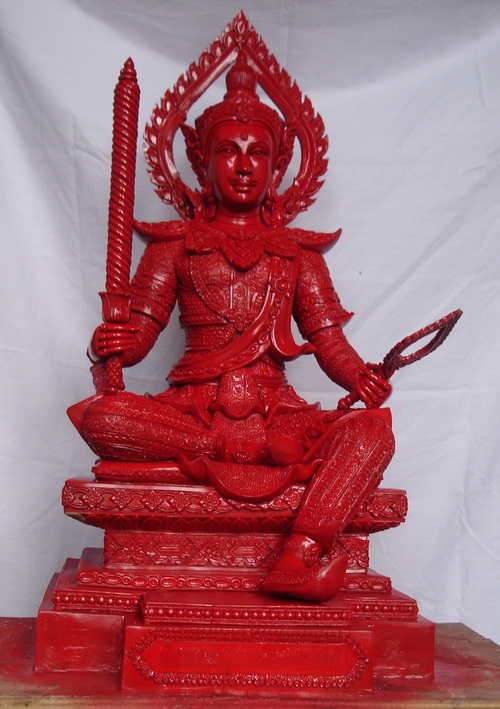 Kata for the Brahma Deity (Pra Prohm)
Various Kata for using when making prayers to Pra Prohm (Brahma Deity) – for use with your Thai Sacred Amulets.
Kata Bucha Pra Prohm
Om Bparamesana Namasagaaram Angkaaranissawarang Prahmaressayam Phubpassa Wis Sanu Waiyataanamotodtiluug Bpamtaramaa Yigyaanang Ya Waiyalaa Kamulam Sataa Nandtara Wimusadtinan Na Madtae Namadtera Ja Agaarang Dtathoewaaja Aedtaamaadtaarayadt Dtaman Dtaramaa Gadtanaa Ramalaa Ja Sarawa Bpadtidtam Sampopagallo Tiwatiyam Madtamya
Thai;
โอมปะระเมสะนะมัสการัม องการะนิสสะวะ รัง พรหมเรสสะยัม ภูปัสสะวะวิษณุ ไวยะทานะโมโทติลูกปัมทะระมา ยิกยานัง ยะไวยะลา คะมุลัม สะทา นันตะระ วิมุสะตินัน นะมัตเต นะมัตเตร จะ อะการัง ตโถวาจะ เอตามาตาระยัต ตะมัน ตะรามา กัตถะนารัมลา จะสะระวะ ปะติตัม สัมโภพะกลโล ทิวะทิยัม มะตัมยะ
Kata Bucha Pra Prohm (short version)
Om Aham Bprahmaa Asmi

Thai –

โอม อหัม ปรัหมา อัสมิ
Kata Bucha Pra Prohm (Ajarn Khrua Saeng version)
(Na Mo Dtassa Pakawadto Arahadto Sammaa Samputtassa 3 times)
Khor Daecha Pra Puttakunang Pra Tammakunang, Pra Sangkakunang Maadtaabidtaakunang Kuru Aaajariyaakunang
Jadturapakdtr Prahmaa Wihaarang Aehi Jidtang Bpiyang Ma Ma Na Ma Pa Ta Na Mo Put Taa Ya Ma A U
Jadturapakdtraa Ja Mahaa Prahmaa Mahittidaechaa Sappasii Naehaa Bprasittimae Sappalaapaa Pawandtume Sappa Aandtaraayaa Winaasamaendtu Sappa Sadtruu Winaasandti Bpiyo Taewa Manussaanang Bpiyo Prahmanamudtamo Bpiyo Naaka Subannaanang Bpinintriyang Namaa Mihang Na Madt Dto Taewa Prahm Maehi Nala Taewaehi Sappataa Na Tandto Sihanaatangyo Nantawandtang Namaa Mihang
Kata Maha Prohm
Prahmaa Ja Mahaa Taewaa Sapae Yagkhaa Bpalaa Yandti
For Protection against Evil Beings, ghosts, Demons and Black Magic;
Ongara Pintunaathang Ubp Bpannang Prahmmaa Saha Bpadtinaamang Aatigabp-Bpae Su Aakadto Bpanja Bpatu Mang Tisawaa Namo Puttaaya Wantanang
For Increasing Luck and Fortune
Bpiyo taewamanussaanang Bpiyo Prahma Namudtamo Bpiyo Naaka Subannaanang Bpinintsiyang Namaa Mi Hang For paying Reverence giving and recieving Metta Jadturapakdtra Mahaa Prahmaa Sappa Sinaehaa Ja Buchidtaa
He who makes Bucha and chants the Kata to Pra Prohm (Brahma) will experience success in their professions and be loved by all people(Metta Mahaniyom).
Go Back to main list of all the Kata for Chanting
---