Kata Bucha Luang Por Ngern
Luang Por Ngern is one of Thailand's Top ten Most Revered Buddha-Monk Images, for whom the Blessings of Riches and Protection are the most Highly Reputed for their Miraculous Power.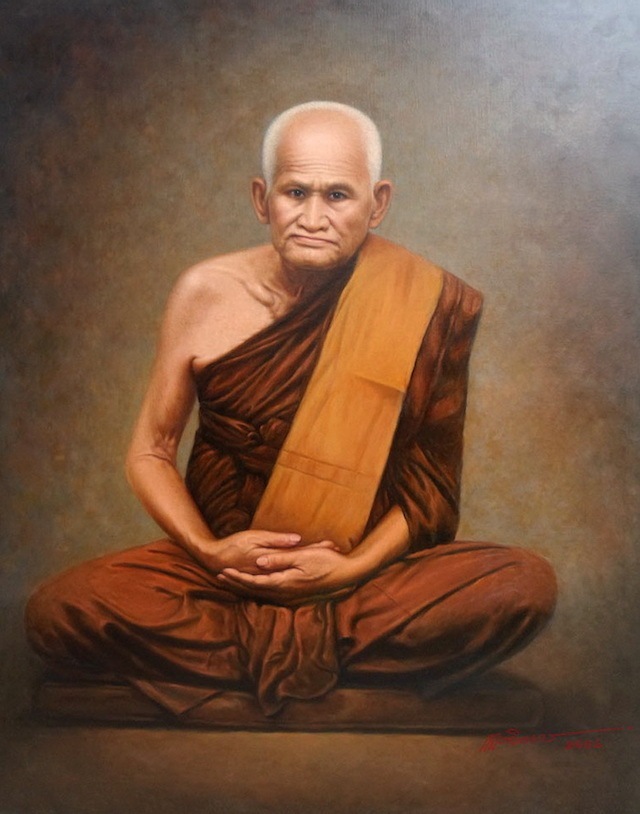 For Proper Ceremonial reverence to Luang Por Ngern, one should use the Traditional Buddhist Method of Bucha as a Preliminary;
Three Prostrations and Chanting of Maha Namasakara (Namo Tassa) 3 Times
Kata Aaratana Luang Por Ngern
Sitti Puttang Gijjang Ma Ma Phuu Kon Hlai Maa Na Chaa Lii Dti

Sitti Tammang Gijjang Ma Ma Khaw Khong Hlai Maa Na Chaa Lii Dti

Sitti Sangkang Gijjang Ma Ma Ngern Tong Hlai Maa Na Chaa Lii Dti
Perform Bucha to Luang Por Ngern on Tuesdays, Thursdays and Fridays. Offer Lotus or Jasmine flowers (9 flowers), three rolls of Areca Nut with Betel leaf – place on a tray along with 9 Incense sticks, one pair of candles. Place them in front of Luang Por Ngern, and Pray for the Protection and Help of Luang Por Ngern, to Prevent enemies from Harming, Avoid Accidents, and to Increase Good Business and Wealthy Fortunes.
The Magical Effect of Wealth Increase is one of the Famous Aspects of the Many Blessings that come from Revering Luang Por Ngern of Wat Bang Klan, the Miraculous Image that has been the source of many stories of Miraculous Events, that have happened with a great many different editions of Luang Por Ngern amulets from a number of Masters. The special Magic of Luang Por Ngern makes the effects work regardless of the Temple or Master who creates the amulet, for it is believed, that the Image of Luang Por Ngern has Special Magic in itself.
A Ga A Ti A Ga Ti A Ga A
Wantaami Aajaariyanja Hiranja Naamagan Thitang Sitti Tandtang Mahaa Dtaechang Itti Mandtang Wasaatarang

Sitti Puttang Gijjang Ma Ma Phuu Kon Hlai Maa Na Chaa Li Dti Sitti Tammang Jidt-Dtang Ma Ma Khaw Khong Hlai Maa Na Chaa Li Dti


Sitti Sangkang Jidt-Dtang Ma Ma Ngern Tong Hlai Maa Na Chaa Li Dti Chimplii Ja Mahaa Laapang Pawandtumae
Kata Kong Grapan Luang Por Ngern
Pra Puttang Pra Jao Kong Hnang

Pra Tammang Pra Jao Kong Nuea

Pra Sangkang Pra Jao Kong Graduuk

Om Paetch Kong Kaa Dtrii Paetch Swaaha
Kata Metta / Kata Soop Buhrii Luang Por Ngern
To ask for Metta – Can use when smoking a cigarette to Enchant the Smoke with the Kata
Makkayaa Taewang
---
[ecwid widgets="productbrowser search" categories_per_row="4″ grid="16,4″ list="30″ table="30″ default_category_id="419438″ category_view="grid" search_view="list" minicart_layout="MiniAttachToProductBrowser"]