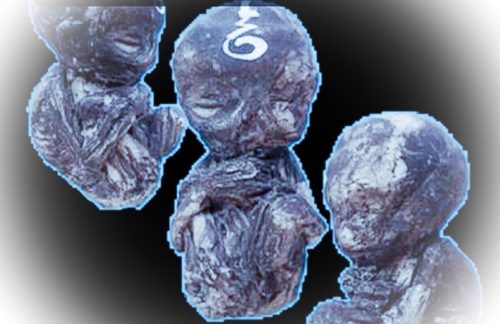 Look Krok is a Thai Animist Prai Spirit Amulet which is still in common use, and has been for many centuries in Thailand, It is a preferred Thai-Khmer Occult Amulet used by full and part time Gamblers, and as an effective method of attracting wealth, boosting business and increasing personal charm and attraction. There are many forms of Prai Maulet which are similar to Look Krok, and indeed, the only reason for so many different names and types of amulet, is because of slightly different Wicha and methods of empowerment. But in fact, you can consider the following list of amulets as all having the same basic nature, powers and Bucha Method;
Look Krok, Kumarn Tong, Mae Takian, Hun Payont, Mae Hoeng Prai, Hoeng Prai, Prai Ngern Prai Tong, Prai Faed, Rak Yom….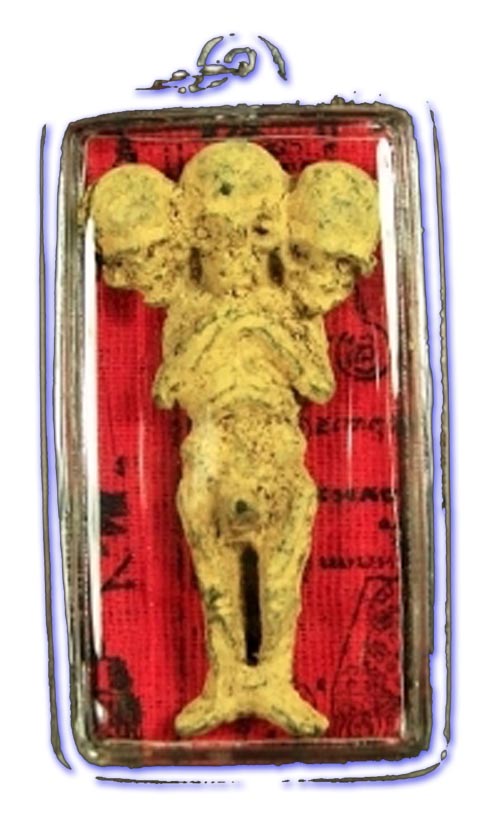 Like all Prai Spirit Deities, to worship a Look Krok will bring great luck and fortune to its owner, increasing wealth, and causing income and treasures to flow in from all around. Gambling is much more of a Cinch with the help of the Look Krok, and Travelling is blessed with the safety given by the Look Krok's Kong Grapan and Klaew Klaad power.
The Look Krok will warn both of forthcoming dangers, and of coming luck. When Luck is about to have a burst or a lucky streak, you will notice people showing much more attention than even usually, and a lot of friendly approaches in a short time. This is the time to lay your bet. The Way of Worship is similar to that for Kumarn Tong, Hun Payont, Mae Hong Prai, Mae Takian, and most other Prai Spirit Deities as far as offerings are concerned, but the Kata is personalized, as is usually the case with each different type of Prai Deity.
How to Worship/Use
When you take the Look Krok into the house for the first time, light incense and inform the 'Jao Tee Jao poom' (Local Spirits and Devas). If you are to use it as a Bucha item on an altar, instead of carrying, or place it on an altar when not carrying, then its altar should be separate from that which you use to pray to Buddha and/or Heavenly Deities. This is the case with all Prai Spirit Deities and amulets.
If you already have a Kumarn Tong, then you can place the Look Krok together in the same place of worship.
Offerings;
Offer one incense stick, flower garlands, water, soft drinks, milk, and sweetmeats, toys and trinkets.
Kata Bucha Riak Look Krok
When feeding and making offerings to the Look Krok, call it using the following Kata;
Na Tu Dtae Sang Dtadto Punchandti Pochanaanang Mae Sanjae Aakajchaaya Aakajchaahi Om Maedtandti Ro Tandtandtangdtae Dtae Jarandtumae Sappae Maedt-Dtang Jidt-Dtang Jidt-Dtang Maedt-Dtanja Sappa Logasming
The Look Krok does not carry any negative side effects with it, and only has blessings with it.
If you wish to call the Look Krok to assist, use the following Kata;
Na Ma Pa Ta Jijeruni Jidtang Jaedtasiggang Ruubpang Nippaanang Look Krok Tep Ritdang Na Tudtaesang Aakajchaaya Aakajchaahi Aehi Aehi Bpiyang Ma Ma
If the Look Krok is in See Pheung Balm instead of a flask of Prai Oil, then call it by opening the balm pot and using your ring finger to tap the balm with, chanting the following incantation;
Puttang Ragkha Jidt-Dtang Aehi Ragkha Jidt-Dtang Tammang Ragkha Jidt-Dtang Aehi Ragkha Jidt-Dtang Sangkang Ragkha Jidt-Dtang Aehi Ragkha Jidt-Dtang
Then smear some balm from your finger on your forehead, for Maha Sanaeh and Metta Mahaniyom with the those you wish to entice.
You can wear Thai Prai Spirit amulets either as an pendant, or place it on its own small altar and place offerings to it (or both, depending if you are home or out Gambling). For Gambling, it is best to take with you. Make Bucha offerings first and then tell the Hoeng Prai its duty for the day and then put on the amulet. It can be worn in pocket or waist level or neck chain whichever way you wish, for this is a Prai Spirit amulet and does not require the strict rules of how to wear Buddha Images.
Kata Bucha Hoeng Prai (Prai Ngern Prai Tong)
Om Jadtura Phuudtaa Mahgaa Dtaecha Wandto Naamadtae Geung Garanang Tanang Laapo Hodtumae
Kata Hua Jai Nak Leng Siang Choke (Master Gambler Incantation – use with Prai amulets)

U Yae A Yae Yae U A Yae
Chant 11 Times
How to Worship the Kuman Tong, Look Krok, Prai Grasip, Mae Takian, Mae Takian and Hoeng Prai Spirit Amulets
Kata for Hun Payont and Mae Takian, Mae Hoeng Prai and Mae Ya amulet
---