Kata Chanting and Bucha Method for Praying to Luang Phu Suang and his Amulets
Kata Aratana Pra Krueang Luang Phu Suang
Na Ma Pa Ta Ahang Nugaa
* Na Ma Pa Ta is the Heart Mantra of the Four Elements
* Ahang Nugaa is the Kata for Ittirit (supernatural miracle power occurring)
He who has practiced Vipassana Kammathana Meditation and observed the Four Elements within Anicca* (Impermanence), and seen well its truth, and practices Metta, will experience incredible results from these Amulets.
* 4 elements within Anicca – this ,means all that has form, but in fact also means the body of the practitioner too, and his own inevitable cessation.
Luang Phu Suang's amulets have all the various possible auspicious blessings and miracle properties in them, be it Klaew Klaad, Kong Grapan or Choke Lap, but they are inclined to be strongest in the Metta Mahaniyom, and Kaa Khaay (good business sales) An extreme cause of Auspicious blessings comes when someone gives a Luang Phor Suang Amulet to a Bhikkhu, one's Mother or Father, or a Kanlayanamitta – the person who performed the giving will experience great Luck and Fortune, becoming a Rich Person, with a Happy Life. He who wears the Luang Phu Suang Amulet – if the wearer of the amulet performs compassionate thinking and feels compassion, performing good deeds towards other beings, be they animal or Human, will not die inauspiciously or from violent circumstances.
Part of the power of Luang Phu Suang is instilled in his abstract image, and even a picture or statue of him that has not been empowered or recieved incantations, will have power in it already. In the past, Luang Phu Suangs amulets were not so universally popular as they are to this day, where in the present times, his amuylets are becoming ever more in demand and rare to find, as they are snapped up by the masses of devotees who have appeared after the amazing story of this Elusive and Legendary Monk came to the Public Light.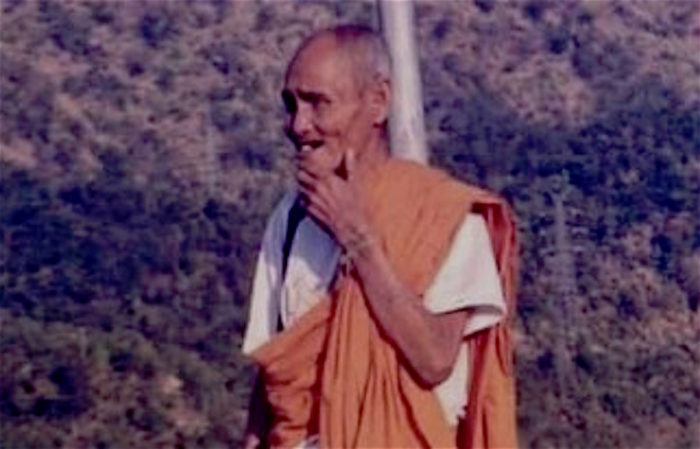 How to Bucha Luang Phu Suang Amulets;
1 yard of white cloth
4 pairs of Dork Wan Maha Hongs White ginger lily (Hedychium coronarium)
1 pair of medium size candles (one baht in weight)
5 pairs of small candles
6 Baht (six coins will do)
9, or 19 incense sticks (lit)
9 rolls of betel and areca (nut and leaves) with some tobacco
Chant the following Kata when all offerings are in place;
Na Mo Puttaaya Idtipiso Pakawaa Ariya Hong Suang Sambanno Yataa Put Mo Na na Ma Pa Ta Ahang Nugaa
นะโมพุทธายะ อิติปิโสภควา อริยะ อ็องสรวง สัมปันโณ ยะธาพุทโมนะ นะมะพะทะ อะหังนุกา
When praying, you should recount your sufferings, and speak of your dreams and wishes. Your ailments and sufferings will reduce and disappear, and your wishes will be fulfilled. It should at best be performed on a Thursday, and you should sit in Kammaṭṭhāna Meditation first and use Luang Phu Suang as the focus object of the meditation, before Chanting the Kata and Praying. This will bring excellent results to the person who truly makes efforts in this Bucha.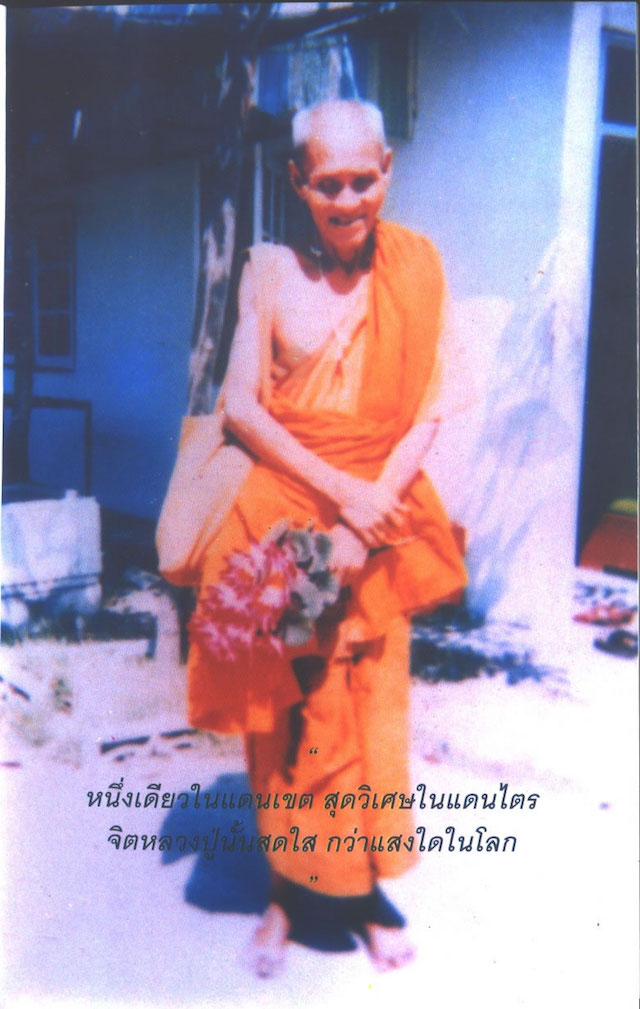 ---