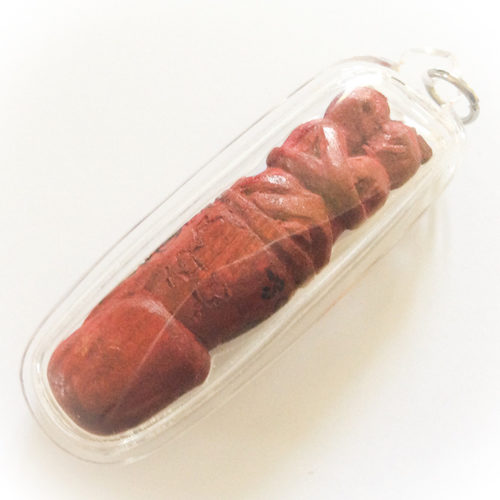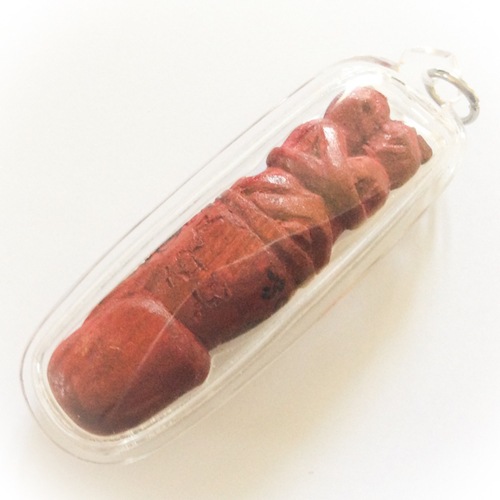 Palad Khik In Koo Maha Sanaeh Animist charm with the Invocation of the In Koo binding lovers diety spell.
Empowered with hand inscriptions of Maha Sanaeh spells in Ancient Khom Sanskrit. The Hua Jai Hying and Hua Jai Chaay were invoked (Incantations for the Heart Mantra of a Man and Heart Mantra of a Woman). The Twin Lover Deity is usable by both Genders and can also be applied for attracting Bi, Gay or Hetero Sexual partners.
Hand carved from Sacred Holy tree Wood and further empowered by emersion in 'Waan Sak Sitt' sacred herbal poweders and resins, and Empowered with the Wicha 'Maha Sanaeh' of Luang Por Prohm, Master of the temple of Luang Por Kong; Wat Ban Suan, in Pattalung.
Luang Por Prohm is one of the top three living Masters of the Dtamnak Dtak Sila Khao Or lineage of Sorcery, and is inclined to produce amulets of the 'krueang Rang' (occult charms and ritual instruments), which has served to increase the higher forms of ritual practices in the lay community.
This has been enabled by allowing them the chance to obtain and use holy prayer water bowls, wands and mitmor spirit knifes and grich akom keris daggers, for use in the home, personal shrine, and place of work.
The last ten years has seen a great increase in the number of Lay Practitioners and Common Buddhist Folk who are using Prayer Water bowls and Mai Kroo, Mitmor, to bless and protect their household and family, and to increase the prosperity of their businesses.
This goes to show how not only the Ordained Sangha of Monks are entitled to perform blessings and accumulate power within amulets, prayer water and other objects such as increasing the attraction power of your wares in your shop.
His Mitmor, Mai Kroo wands and sceptre-knives are legendary for the Brahman vedic Wicha and the lineage of the Khao Or Masters running trough their blades.