The Paya Krut Thai amulet, is an amulet with an ancient history and heritage that ecxtyends far beyond the borders of Siam, and symbolizes much more than just a National Mascot.
Key attributes associated with Paya Krut include:
Wealth and Prosperity: Devotees believe that paying homage to Paya Krut can bring financial prosperity, riches, and an increase in possessions.
Protection from Negative Forces: The amulet is thought to provide protection against black magic, bad karma, negative energies, and malevolent influences.
Cleansing and Purification: It is believed to cleanse one's psyche and surroundings from negative elements.
Status and Influence: Paya Krut is associated with development, advancement, and an increase in one's social and professional status. It is often revered by civil servants, military personnel, and individuals in authoritative positions.
Spiritual Significance: In Thai culture, the Garuda is seen as a sacred and honorable deity, symbolizing wisdom, intelligence, and respect.
Protection Against Malevolent Spirits: Paya Krut is considered a guardian against ghosts and malevolent spirits.
The Garuda, known for its great might and commanding power, symbolizes progress and prosperity. It is believed to enhance one's influential abilities and elevate one's status. The Garuda is also renowned for its invincibility and immortality, symbolizing protection against various threats, even those as powerful as lightning bolts.
Worshipers recite specific Kata (prayers) to Paya Krut while using this amulet to invoke its blessings. These prayers seek the deity's favor and protection, both in daily life and spiritual endeavors.
Thai Kata to Paya Krut (Garuda):
โอมคะรุปิจะ กิติมันตัง มะอะอุ โอมพญาครุฑ รุจ รุจแล้วรวย นะได้เงิน นะได้ทอง นะได้ทรัพย์ นะได้บุญบารมี นะมั่นคง นะล้างอาถรรพณ์ นะเจริญ นะรุ่งเรือง นะรุ่งโรจน์ นะเมตตา อธิฐามิ
Transliteration:
Om Karubpija Gidtimandtang Ma A U Om Payaa Krut Ruj Ruj Laew Ruay Na Dai Ngern Na Dai Tong Na Dai Sap Na Dai Bun Baaramii Na Mandtang Na Laang Aathan Na Jaroen Na Rung Rueang Na Rung Rojn Na Maedtaa Adtithaami
This Thai kata is used to invoke the blessings and protection of Paya Krut (Garuda). It is recited while focusing on the deity and seeking his favor and assistance in various aspects of life, including prosperity, protection, and success.
Paya Krut (Garuda) Beyond Thailand: A Cross-Cultural Perspective
The mythical creature known as Paya Krut in Thailand, often referred to as Garuda, transcends national boundaries and plays a significant role in the religious beliefs, culture, and art of various other cultures, most notably in Balinese culture and Hinduism. This article explores Paya Krut/Garuda's presence and role in these cultures.
Balinese Culture:
In Balinese culture, the Garuda is known as "Garuda Wisnu Kencana" (GWK) and is closely associated with Lord Vishnu, one of the principal deities in Hinduism. The Balinese people revere the Garuda as a symbol of strength, power, and protection. The Garuda Wisnu Kencana statue in Bali is one of the most iconic landmarks, depicting Lord Vishnu riding the mighty Garuda. This colossal statue stands as a testament to the profound influence of Garuda in Balinese culture.
Religious Significance:
The Garuda is an essential part of Balinese Hinduism, where it represents the cosmic order and the divine balance between good and evil. It is often seen in religious ceremonies and temple architecture. In Balinese mythology, Garuda is seen as a protector against evil spirits and is invoked to purify the surroundings and ward off malevolent forces.
Cultural Depictions:
Balinese art and dance frequently incorporate the image of Garuda. The Barong dance, a traditional Balinese performance, features the Barong, a mythical lion-like creature, and the Garuda as adversaries representing the eternal battle between good and evil. Garuda masks and sculptures are also prevalent in Balinese art, reflecting its central role in cultural expression.
India and Beyond:
Outside of Bali, the Garuda is a significant figure in Hinduism, where it serves as Lord Vishnu's mount. In India, particularly in South India, you can find numerous temples with Garuda statues and depictions as part of religious rituals and festivals.
Cambodia and Indonesia:
In neighboring Cambodia, the Garuda is present in the country's national emblem. The Garuda Pancasila, as it's known, is a symbol of the Indonesian state ideology, representing freedom, democracy, and social justice. This emblem also appears on the Indonesian national emblem.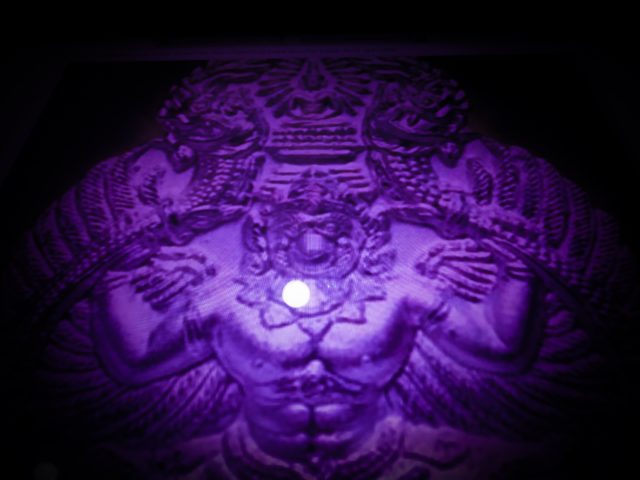 Paya Krut (Garuda) extends its wings across cultures and borders, leaving a lasting imprint on religious beliefs, cultural expressions, and art forms. In Balinese culture, it embodies the divine and represents a symbol of strength and protection. Beyond Bali, the Garuda remains a potent symbol in Hinduism and is even a part of national emblems in countries like Indonesia and Cambodia. Its enduring presence underscores its significance in Southeast Asia's rich tapestry of beliefs and traditions.
Sri Garuda Gayatri Mantra:
ॐ तत्पुरुषाय विद्महे सुप्ततुंगाय धीमहि तन्नो गरुडः प्रचोदयात्॥
Transliteration:
Om Tatpurushaya Vidmahe Suptatungaya Dhimahi Tanno Garudah Prachodayat

This Gayatri Mantra is a way to invoke the blessings and guidance of Garuda, seeking his protection and strength. It's often chanted during rituals, prayers, and meditation dedicated to Garuda or Lord Vishnu.
Meaning:
Om: The sacred sound, the source of all existence.
Tatpurushaya: Refers to Lord Vishnu, with whom Garuda is closely associated.
Vidmahe: We meditate upon or know.
Suptatungaya: The one with beautiful wings.
Dhimahi: We contemplate or focus on.
Tanno Garudah: May Garuda bless us.
Prachodayat: May he inspire or guide us.
---