Recently, Ajarn Spencer Littlewood –the author of the Buddha Magic e-zine and the Sak Yant e-book– has kindly made the first issue of Buddha Magic available as a free download on Thailand-Amulets.net. Hereby Ajarn Spencer donates Buddha Magic I to those who want to study this topic in more detail. It is hoped that the valuable information shared by Ajarn Spencer sheds light on the deeper meaning of various types of Thai amulets, providing thereby new insight in regard to the general understanding of Thai Buddha magic.
Buddha Magic I contains 70 pages in full color with articles about Thai animism, Buddhism, Buddhist art, Buddhist monks, Thai temples, and, of course, Thai amulets. Hence, Buddha Magic offers in depth study material for the collector of Thai Buddhist amulets. In addition, the e-zine contains detailed information about the various forms of  ritual practices in Thailand.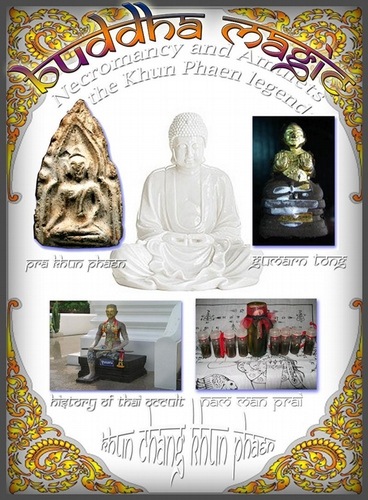 All E-publications on Thailand-Amulets.net now serve you a private download link to your ebook immediately after going through checkout, with no waiting.
Download your free copy here.
On agreeing to download this free e-zine you also agree to the following conditions:
You do not change or remove anything within the pages of this document. You do not resell it or distribute it on your website without prior permission from the author, and also not without quoting the author, with the references and relevant links to this website.